Review: The Angel Inn and E.Street Bar & Grill, Petworth
Combining a sexy place to eat and even sexier places to stay, our mini break in the Sussex town is true Petworth perfection.
If you ever needed an excuse to explore this perfectly preserved market town oft frequented by artist JMW Turner, Muddy has uncovered the ideal "package" solution to enjoy it.
Catering for gastro loving foodies and inclusive of all the charm you'd expect from staying in a historic 17th "publik house," (so called in the original deeds of The Angel). So read on and book in. You'll love it, we did.
THE LOWDOWN
Petworth, often touted as one of the most desirable places to live in the UK, is home to no fewer than 5 top-notch art galleries and more antiques shops than you can shake a Victorian walking stick at. Its also a bit of a foodie destination, so any excuse to visit is always met with a yes please!
Under the umbrella of Petworth Places, sits a selection of "heritage homes away from home", where options to stay include a Coaching Inn built around 1700, a luxe 18th century apartment and a Grade II-listed late Regency villa – we can truly attest they cover all bases.
The Angel Inn, where we stayed, is quintessentially a traditional drinking establishment downstairs, but upstairs has been transformed into a 7 bedroom stylish inn, located in the heart of the town.
It's neighbour is Ryde House, playing host to groups of 6 comfortably overnight, making for a stunning home & garden to enjoy your country break. If you are a bigger party and organised enough, you could find booking East House, a slick option. It comfortably sleeps a further 6 and it's just a short stroll away but one to really take advantage of all the shops and restaurants.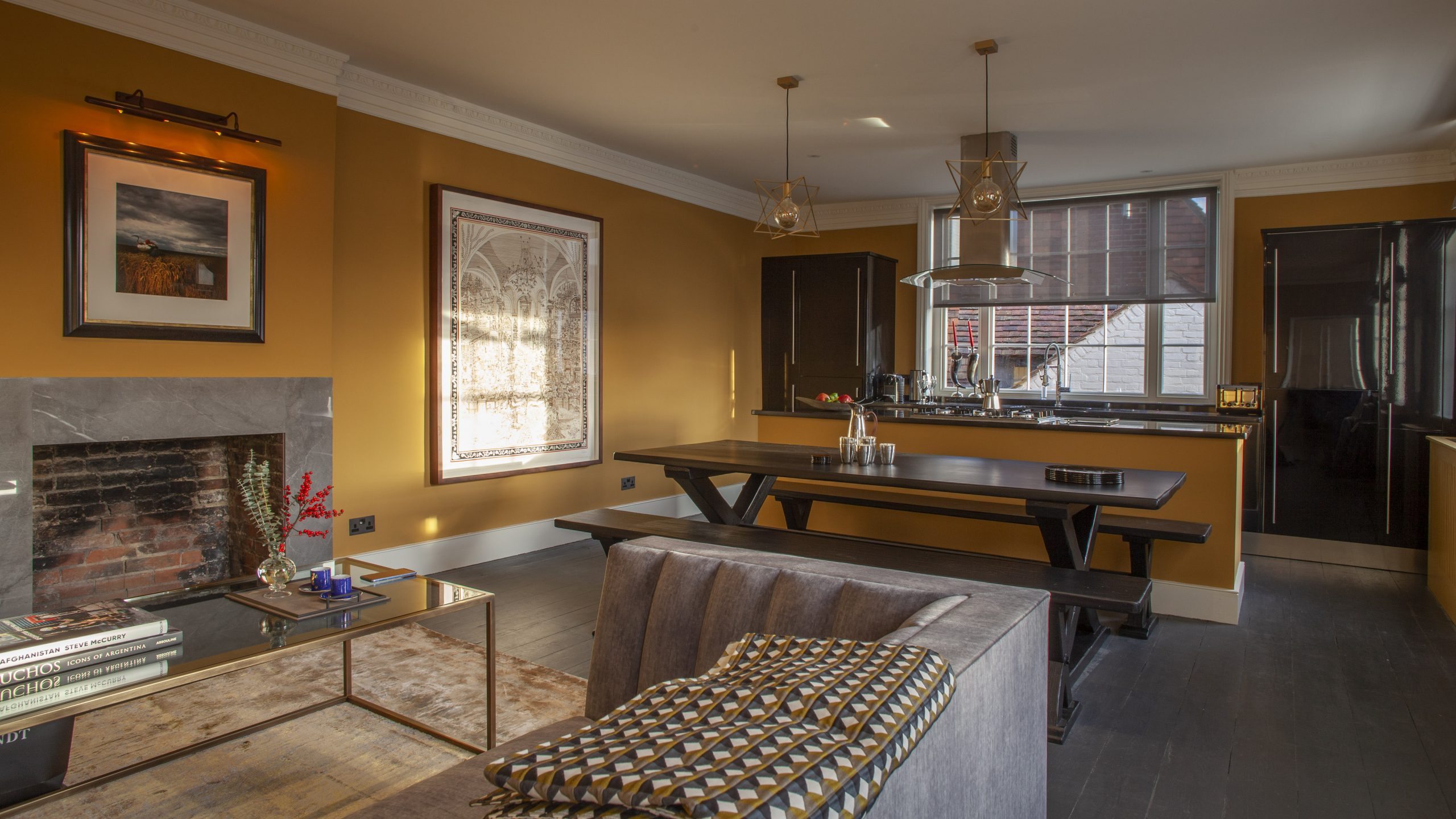 Each property has been lovingly restored and refurbed to standards us mortals can only aspire to – meeting our comfortable, chic and "can we just move in" desires. They play base camp to ensure your weekend exploring all the cultural and historic delights Petworth has to offer – catering for art lovers, to sport enthusiasts and those who love just whiling away their time in nature.
THE VIBE
Arriving at The Angel Inn, we remarked how simply pretty it was and felt our shoulders start to relax – as is the general vibe around Petworth which although a bustling town, also lends itself to a natural slower pace. Our room, "Walnut" was country chic with beautiful beams and traditional soft furnishings with a window seat to boot, we felt fully content. Settled in nicely with a glass of cold Sauvignon, Muddy was chomping at the bit to dine at the Michelin acclaimed brasserie luxe, E.Street Bar & Grill just down the road.
SCOFF & QUAFF
It's worth a note that before we left to eat at E.Street, The Angel itself was almost full downstairs with diners and big family tables indicating it's a firm favourite for pulling in locals.
A short amble away on the corner of the high street is the stylish 17-century red brick fronted building, which does not disappoint inside. The main bar and restaurant is beautiful, serene and stylish – clearly having received an interior designer's touch. It also has a private dining area (below), with open fireplace to cater for larger groups.
The restaurant is completed by the fabulous courtyard terrace (a dangerously tempting space to sip rose all afternoon in and seriously romantic by night!)
Foodies will be happy here – with starters like Sashimi Tuna Carpaccio, Miso, Sesame, Ponzu, Shaved Radish with Crispy Capers (heavenly and a very reasonable £12), to Spicy Tempura Soft Shell Crab in Nam Jim (£13.00), taste buds were very much tantalised and all presented to high standards, complete with a gorgeous glass of cold Gavi.
Mains followed swiftly after and my date opted for the Fillet of Cod, Crab Crust, Chickpea Ragout in Lagoustine Bisque, (£24.00) whilst I devoured 150g of Highland Wagyu Ribye, (£27.00) with Triple Cooked Chips (natch), Heritage Tomatoes, Portobello Mushroom, Porcini, Black Garlic and Beef Dripping Butter. It was tremendous. 
Dessert was totally unnecessary after the pre-amble of home-made bread, starters and the generous main course, but we've never let that get in the way of a pig-out opportunity, so cue the creamy hazelnut mousse with posh honeycomb wafer – *inhaled*.
The meal was finished off with The Lemon Pie Limoncello boozy desert which was a big hit, because yes, that was also necessary.
PILLOW TALK
Back at The Angel Inn, and ready to sink into bed in a food coma we felt right at home. Curated and design led by Augustus Brandt interiors direction – the Coach House rooms are chic but cosy with cloud like duvets (ahhh), solid mattresses (vital) and (shocker alert), the most comfortable pillows we've slept on. Our ensuite (below), was top to floor marble panelled, bright and airy.
All rooms come equipped with complimentary toiletries, high end tea/coffee with coffee machine, flat screen TV and free Wi-Fi. A lovely touch was the homemade brownies from local deli and award winning The Hungry Guest.
Our room was road facing but not all roads are noisy and if you are visiting from the city you really wouldn't even call it a road.
The next morning, breakfast was ample and now well fuelled, we spent some time ooing and aahing at Petworth Antiques Market, which you could get lost in for hours. Muddy also recommends a bit of retail therapy in Twenty Petworth, Lili Boutique and in the nearby town of Midhurst, Me and Maya Boutique.
Antiques and Art
Petworth is the cultural hotspot of Sussex, teaming with antique treasure troves, and historic, modern and contemporary art at Petworth House and Newlands House Gallery, the latter spread across 12 rooms and a whopping 7,500 sq ft, and holding world class exhibits and internationally leading artists, not to mention the d-lish Hungry Guest café on site.
If you love what you tried it would be a crime to leave town without stocking up on goodies at the Hungry Guest deli which is teaming with local produce – cheese lovers beware (we'll let you find out for yourselves…).
A short drive West will find you in Midhurst, another thriving market town with independent retailers, pubs and restaurants set in a mix of medieval, Georgian, Victorian and Edwardian architecture. Nearby Cowdray Estate is a country estate teaming with activities for both grown-ups and the family or for wine lovers, Upperton Vineyards and Roebuck Estate in Petworth and Muddy LBB fave Wiston Estate should keep your cellar well stocked!
Not to be missed is the National Trust treasure Petworth House & Park, where you can unwind and breath deep the stunning baroque inspired building perfect for history lovers and tiring out little legs and four legs so they sleep soundly!
THE MUDDY VERDICT
Good for: Romantic couples, overnight frazzled mum breaks, dog friendly vay-cays and families (if you can grab the interconnecting Hawthorn or Beech room at The Angel).
For a longer friends or family trip, rent the beautiful Ryde House or East House luxury apartment – both can sleep 6 comfortably. Either would also make a great option to rent for stunning wedding party accommodation. Overall, for anyone wanting countryside with a side order of chic.
Not for: The Angel Inn is family-friendly, but E Street is for grown-ups and older families. Family room options are available at The Angel Inn but really it makes for the perfect adults only overnighter or weekend escape.
The damage: Rooms at The Angel Inn start at £170 per night. East House £470 per night. Ryde House Regency Villa Bookings from £560 per night.
Meals at E Street Bar & Grill: Starters from £9, Mains from £19, Deserts from £8.50. Cocktails from £9.
Meals at The Angel Inn: Starters from £8.50, Mains from £11 and Deserts from £7.50. Kids Menu £10 for 3 courses.
https://petworthplaces.com, East House, East Street, Petworth, GU28 0DA, enquiries@petworthplaces.com, 01798 344445.